New questions over security at Jerusalem holy site
Comments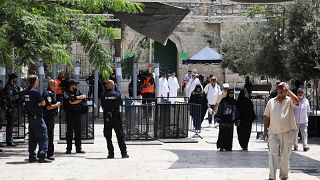 New security cameras have reportedly been installed at the entrance of the Jerusalem mosque at the centre of deadly new tension between Israelis and Palestinians.
It is the latest development in a row that began over the installation of metal detectors at the holy shrine.
Despite numerous deaths triggered by the controversy, the Israeli prime minister says the metal detectors will not be removed, although their use could eventually be reduced.
The measures were taken after two policemen were shot dead at the shrine on July the 14th.
Among the violence that followed, three Palestinian demonstrators died in clashes and an Israeli man and two of his children were stabbed to death in the West Bank.
In his Sunday address at the Vatican, Pope Francis appealed for restraint.
He said: "I am following with trepidation the grave tensions and violence in the last few days in Jerusalem. I feel the need to express a distressed appeal for moderation and dialogue."
The appeal came as a rocket was launched into Israel from the Gaza Strip. The military says an open area was hit, causing no damage.