Qatar's emir says his country is ready for dialogue to resolve diplomatic crisis
Comments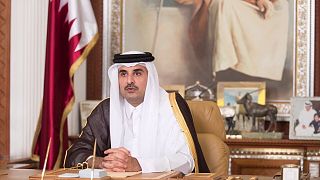 Qatar's emir says the country remains open to dialogue with four Arab nations that have isolated it, but that any resolution to the crisis must respect his country's sovereignty.
Sheikh Tamim bin Hamad Al Thani made the comments in his first televised speech since a diplomatic dispute among the U.S. allies erupted more than a month and a half ago.
He hailed the solidarity and resolve that Qataris have shown in the face of the crisis, and said it would make the tiny country, which will host soccer's World Cup in 2022, even more resilient.
"We are open to dialogue to iron out all the pending issues, not only for the benefit of our peoples and governments, but also to spare our region the pointless efforts to dissipate our gains," he said.
Saudi Arabia, the United Arab Emirates, Egypt and Bahrain cut diplomatic ties with Qatar and severed air, land and sea links with it on June 5 after accusing it of backing extremist groups.
Qatar strongly denies the charge and argues the isolation effort is politically motivated.
They later issued a tough 13-point list of demands needed to resolve the crisis, including shutting down news outlets such as Al-Jazeera, cutting ties with Islamist groups, limiting ties with Iran and expelling Turkish troops stationed in the country.
Qatar refused to bow to the demands within a 10-day deadline, and the anti-Qatar bloc has begun to shift its focus toward six principles on combating extremism and terrorism.
In his televised address late on Friday, the Emir said any resolution must respect Qatar's sovereignty and will, and cannot be based on the acceptance of orders dictated from outside.
The United States and other Western countries have dispatched senior envoys to the region to press both sides to resolve the dispute, which the Gulf nation of Kuwait attempted to mediate.