White House Press Secretary Sean Spicer resigns
Comments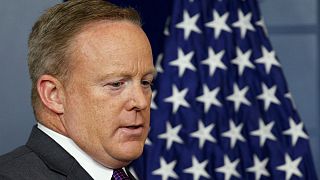 Sean Spicer, has resigned as White House press secretary after strongly disagreeing with the appointment of Wall Street financier Anthony Scaramucci as communications director.
President Trump offered Mr Scaramucci the role this morning but asked Mr Spicer to stay on. Mr Spicer is reported as saying the appointment was "major mistake."
Mr Scaramucci is a longtime Trump supporter.
Mr Spicer served six months in the president's administration and took on the responsibilities associated with the communications role in the interim when Mike Dubke resigned from the role in May.
The former press secretary caused a media frenzy when he tried to highlight the brutality of Syrian President Bashar al-Assad by saying "not even Hitler" used chemical weapons when the Nazis poisoned millions using gas during the Holocaust. Spicer said he "made a mistake" and "screwed up".
The latest news comes as the White House is facing allegations into claims of Russian involvement in last year's presidential election.
Mr Spicer, who was memorably mocked by Melissa McCarthy on NBC's Saturday Night Live, had withdrawn from the camera in recent weeks.