Silk Way Rally: Cyril Despres edges towards second win
Comments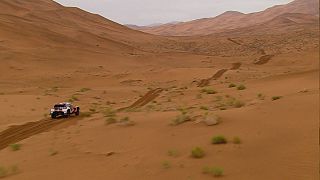 In this penultimate stage of the 2017 Silk Way Rally, Cyril Despres closed in on his second straight overall victory in the cars, while Dmitry Sotnikov resisted his Kamaz teammate Anton Shibalov in the trucks.
Today's 13th stage was between Alashan Youqi and Zhongwei. It was 690km with two distinct specials: the first involving some of the highest and most spectacular dunes of this year's rally, the second featuring smaller dunes but with some tricky passages to navigate.
It was wet during the first part of the day, but the temperature was over 30 degrees during the second special.
Stephane Peterhansel won his fifth stage in the cars (one more than retired teammate Sebastien Loeb, the most of anyone at the Silk Way), while Despres finished 1 minute 39 seconds back in second, extending his overall lead to 1 hour 4 minutes 39 seconds.
Stage 12 winner Christian Lavieille finished third leapfrogging Han Wei into second place overall.
It was a bad day for Bryce Menzies. The American, who was battling with Lavieille and Han for second a few days ago, lost almost three hours after getting stuck in a dune. He slips to ninth overall, while Eugenio Amos moves up to fourth.
There's a two-horse race in the trucks, where Sotnikov and Shibalov traded blows today. Shibalov won the day's first special ahead of Sotnikov, and at that point the two Russians were virtually separated by just six seconds.
Sotnikov hit back though to win the stage (his fourth of the rally, and first since stage eight) by exactly three minutes and retain his overall lead (held since Stage 5). The gap is therefore 6 minutes 4 seconds going into the final stage.
Due to the storms and heavy showers that have hit the Zhongwei region during Saturday evening, the Silk Way Rally's Race directors have been forced to announce the cancellation of the 14th Special stage.