Row over Austria's Foreign Minister's comments that Italy is giving illigal migrants a gateway to Europe.
Comments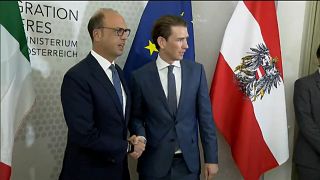 Austria's Foreign Minister Sebastian Kurz has been criticised for saying Italy should stop allowing illegal migrants from reaching the mainland. He said allowing them movement is giving them a gateway to Europe.
The comments were made during a meeting with his Italian counterpart Angelino Alfano, in Vienna.
Mayor of the Italian island of Lampedusa, Totò Martello, said "he'd expect such a statement from a 'neo-nazi' rather than from a Foreign Minister."
The Mediterranean island is known as "the door of Europe." Over the past 20 years, an estimated 400,000 people have crossed the Mediterranean to arrive on Lampedusa. At least 15,000 have died trying.
Just five years ago to Oct. 3, 2013, when at least 366 people drowned in a shipwreck just offshore from the island.
Kurz's ÖVP's Party condemned Martello's comments as "intolerable" and "fully out of context."
But Mr Martello told Euronews that he stood by his statement:
"His comments are not acceptable at all. I repeat and confirm what I've already said."
"If we let such strong messages to be spread, without saying anything, all our efforts here in Lampedusa to host the migrants are belittled and not only this, but the idea of hospitality and peace that we share across the Mediterranean, is belittled."
He added that if the scenario suggested by the Austrian Foreign Minister became reality, it would mean death: "It would mean a community and city would die."
In response to Kurz, Italian MEP and Leader of the Progressive Alliance of Socialists and Democrats Group, Gianni Pittella suggested that the Austrian Foreign Minister wanted to turn Lampedusa into a concentration camp.
Totò Martello said he would consider that suggestion realistic:
"Just think that during the Arab Spring, here in Lampedusa we received around 30.000 migrants. In the concentration camps, the only possible destiny is death. In the concentration camps, there's no life".