From ice to rocks: A tale of glacier retreat in the Italian Alps
Comments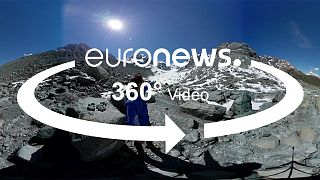 With global warming, glaciers around the world are melting at an alarming rate. Discover in this 360° video how the Ventina glacier in the Italian Alps has receded by roughly one kilometre in less than a century, reducing rivers' volumes across the Lombardy region.
In Valmalenco in the Italian Alps, the Ventina glacier is receding about 30 metres each year due to climate change and human activities.
Mattia Gussoni and Andrea Toffaletti from Servizio Glaciologico Lombardo, a scientific centre for glacier study and analysis, explain the causes and consequences of the glacier's retreat, and show us how far the glacier went back in the 1930's.
The 360° images of the glacier's valley and its impressive moraines tell a story spanning several centuries, from the Little Ice Age to our days, and show a transformation that few could have imagined just a few decades ago.
Video producer: Elena Roda
Music: "Words don't cover" by Club Voltaire
Watch in Virtual Reality: how climate change is affecting Europe now
Inside this VR experience, you can watch seven different reports on climate change in Europe, either with a VR headset or through your normal browser on computer, tablet or phone.
You can choose your destinations by gazing at the icons on the map or by hovering the round cursor on them.
On a desktop browser, you can enter full screen mode by clicking on the glasses.
Please use Wi-Fi if you are on mobile, as well as headphones for the best experience. If you have trouble starting the experience below, please click on this link .