Macron shows solidarity with soldiers after army head quits
Comments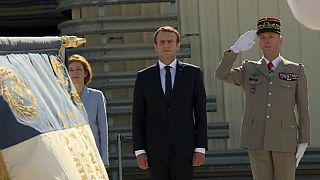 Twenty-four hours following the controversial resignation of General Pierre de Villiers as head of the French army President Emmanuel Macron appeared alongside his new appointee General Francois Lecointre and Armed Forces Minister Florence Parly in a show of solidarity.
Macron seeks to repair damage after army chief quit https://t.co/gO3tSfJnbPpic.twitter.com/Tg4pEFakae

— My Vote My Voice (@spore8ge) July 20, 2017
The three at the top of the army tree were on a visit to the Istres air base in the south of the country.
Macron moved quickly to install Lecointre as army chief.
Battles of the Macron army https://t.co/qeRXuyTR2H#news#weaponspic.twitter.com/JtE3gg1AVV

— V00D00 (@V00D00web) July 20, 2017
His predecessor General Pierre de Villiers clashed with Macron over proposed budget cuts.
Macron announced €850m in defence cuts, which infuriated de Villiers who said "There is no fat in our army. We are attacking the muscle here, and this as the security situation worsens."
France's army chief resigns over Macron's military budget cuts saying he can no longer perform functions of the jobhttps://t.co/VGZQQJvi89pic.twitter.com/UzYvFsKr9w

— dwnews (@dwnews) July 20, 2017
The two men had a furious disagreement as France prepared for the Bastille Day parade where the pair shared a vehicle and took the salute.