Leaders struggle in the dunes in 12th stage of Silk Way
Comments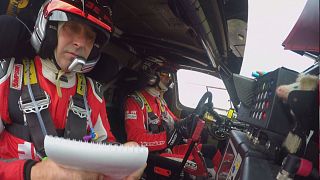 The overall leaders both survived a scare on Stage 12 as the Silk Way drivers battled their way through some tricky dunes.
In the cars, Cyril Despres was forced to stop late on with a hydraulic problem, but the Frenchman only lost 20m 31s on stage winner Christian Lavieille, and still has a lead of 43m 22s over Han Wei heading into the final two stages of the rally.
"It was good – good navigation," said Levieille. "I'm very happy for my team, for Baicmotor Sport, and for my mechanics, because yesterday I had a technical problem and they worked all night to fix it. So it's been a good day!"
Bryce Menzies was second overall at the start of the stage, but lost his way in the dunes and eventually came in 21m 16s down. Worse – he was handed a 20-minute penalty for missing a waypoint and is now fourth overall, almost half an hour off the podium.
Frenchman Lavieille took a first stage win for Chinese manufacturer Baicmotor, just 19 seconds ahead of Geely's Liu Kun. He is now third overall, and has cut the gap to Han Wei to just 3m15s.
Trucks leader Dmitry Sotnikov got stuck in the dunes and struggled with an engine that wasn't producing much power, but the Kamaz driver still managed to finish sixth, 14m05s behind teammate and stage winner Airat Mardeev.
"I'm glad that our teammates had good results today, and that we're on top, said Kamaz . "We're showing a good level, showing that we can handle this kind of sand. It's been an interesting day, but I don't think it was easy for anybody."
Anton Shibalov (also of Kamaz) came second (+2m 15s) and now trails Sotnikov by just 3m04s in the overall standings. Third-placed Mardeev is 17m 54s back. Disaster though for Martin Kolomy, who was third this morning. The Czech suffered a mechanical problem in the desert, and even if he isn't forced to abandon, he will pick up severe penalties for failing to finish the special.
Stage 13 from Alashan Youqi to Zhongwei will also be tough, with two specials of around 160km each.