Saudi woman arrested over miniskirt
Comments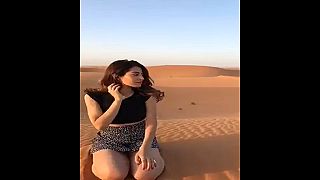 A Saudi woman who sparked outrage in after sharing a video of herself wearing a miniskirt has been arrested, according to local media.
The social media star known as Khulood is seen walking around empty streets.
The widely-shared video caused anger in Saudi Arabia, which has some of the world's strictest laws for women.
While some praised her bravery, many called for her arrest.
A woman posted a video of herself wearing a miniskirt in Saudi Arabia and now the government's looking for her https://t.co/f9J3prYKdw

— BuzzFeed News (@BuzzFeedNews) July 17, 2017
Saudi Arabia's strict dress code says women must wear loose-fitting, full-length robes known as abayas in public.
Muslim women are also expected to wear a form of head scarf.
شرطة #الرياض تضبط امرأة ظهرت بلباس غير محتشم في #أشيقر وتحيلها لـ #النيابة_العامة. #الإخبارية
#مطلوب_محاكمة_مودل_خلود

— قناة الإخبارية (@alekhbariyatv) July 18, 2017
Saudi state TV channel Ekhbariya said the woman had been detained for appearing in indecent clothing.
The social media celebrity has previously protested against the country's ban on women driving by sharing a video of herself at the wheel of a car.
Adult women must also have permission from a male guardian to do things such as work or travel.