Maduro vows to press ahead with new assembly plans
Comments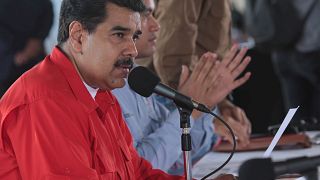 The Venezuelan President Nicolas Maduro has warned the European Union and the United States not to meddle in his country's affairs.
It follows widespread criticism of his plans to hold a vote on July 30 to create a new more powerful assembly and rewrite the constitution.
The United States has threatened to take "strong and swift economic actions" if Maduro goes ahead. In a statement issued by the White House, Donald Trump described his Venezuelan counterpart as a "bad leader who dreams of becoming a dictator."
Statement from POTUS</a> on Venezuela. <a href="https://t.co/wh8JyZow1A">pic.twitter.com/wh8JyZow1A</a></p>— Sean Spicer (PressSec) July 17, 2017
During his daily televised programme, Maduro branded EU foreign policy chief Federica Mogherini "insolent" over her comments about the country and said anyone taking action against Venezuela's democracy would face severe consequences.
"Mogherini, you messed with the wrong country. You can't give us orders because Venezuela is a free and sovereign country where Venezuelans rule. It's not a colony of the European Union," added Maduro.
The opposition, meanwhile, has stepped up its call for more protests against Maduro after an unofficial referendum rejected his new assembly proposals.
"We urge the whole country to peacefully join our 24-hour national strike on Thursday to put pressure, said Freddy Guevara, vice-president of the National Assembly.
Several months of demonstrations have left around 100 people dead. The latest victim was killed on Sunday when gunmen shot a 61-year-old woman in a crowd of opposition voters in Caracas.