Stockholm Arlanda Airport renovates its disused control tower into the ultimate room with a view
Comments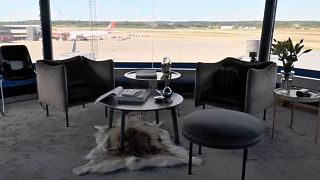 Stockholm Arlanda Airport has created the ultimate room with a view.
The original air-traffic control tower has been empty for several years, but now it's been transformed into a luxurious apartment.
Standing at almost 80 meters tall, the tower has panoramic views of the runway, floor-to-ceiling windows, a grey color scheme and minimalist design.
The 115 meter square apartment can accommodate four people, and was designed by Swedish artist Cilla Ramnek.
The airport is one of two in Sweden's capital.