Sebastien Loeb loses eight hours as he crashes in Silk Way Rally
Comments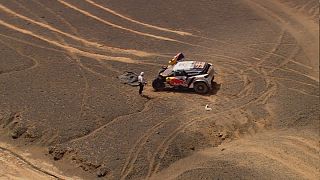 The Silk Way Rally returned for a dramatic Stage Nine from Urumqi to Hami.
After Sunday's rest day, the drivers raced for the first time on the proper dunes of the Gobi desert – and it did not disappoint.
#Silkwayrally2017 Stage9 #Cars#Peugeotsport#Peugeot3008DKRMaxiPeugeotsport</a> <a href="https://twitter.com/SebastienLoeb">SebastienLoebDanosElena</a> <a href="https://t.co/95qxF0tt0M">pic.twitter.com/95qxF0tt0M</a></p>— Silk Way Rally (silkwayrally) July 17, 2017
Sebastien Loeb had been leading the cars class by over an hour, but he rolled his Peugeot early in the day's 421 kms special to lose around eight hours, ending his hopes of finally winning a first major rally raid.
He said: "It was an offroad section, but it was quite flat all the time.
"But just here we had like a hole, and I saw it too late.
"I was on the line but I didn't see it, so we destroyed the front, and now it will be a long time to repair."
Cyril Despres made the most of his teammate's error to move top of the overall standings.
The defending champion is 44 minutes and 12 seconds ahead of Han Wei.
The third Peugeot driver, Stephane Peterhansel, won the stage, but remains 2.5 hours back overall.
#Cars after SS9:
1.Despres 26:31:17
2.Han +00:44:12
3.Menzies +00:51:23
4.Lavieille +00:52:34
5.Amos +01:45:33#Silkwayrally2017

— Silk Way Rally (@silkwayrally) July 17, 2017
In the trucks category, Kamaz's domination continued full throttle, as defending champion Airat Mardeev led home his three teammates Dmitry Sotnikov, Anton Shibalov and Eduard Nikolaev in an impressive 1-2-3-4.
Sotnikov, who has led the rally since Stage 5, now leads Shibalov by 14 minutes and 27 seconds overall.
Stage Ten will see the drivers race 518 kilometers from Hami to Dunhuang .