Women golfers get new dress code
Comments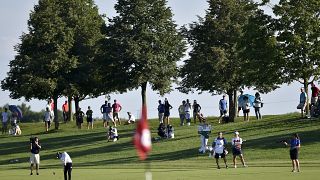 Female golfers will be banned from wearing low-cut tops, leggings and short skirts under new rules announced by the Ladies Professional Golf Association (LPGA).
"Plunging necklines are NOT allowed… length of skirt, skort and shorts MUST be long enough to not see your bottom area (even if covered by under shorts) at any time, standing or bent over," read a memo sent by LPGA president Vicki Goetze-Ackerman, according to Golf Digest .
The rules also cover what is permitted off the course for official events – including a ban on cut-off or ripped jeans.
Penalties for violating the dress code start at $1,000 and will be doubled for each offence, the memo warns.
With golf already notoriously male dominated to the extent that many top courses still ban female members, the new rules provoked outrage over their seemingly judgemental position.
Teen Vogue magazine accused the LPGA of "body-shaming" its female athletes.
New, more restrictive LPGA</a> dress code expected to have little impact in Oak Bay. <a href="https://twitter.com/hashtag/yyj?src=hash">#yyj</a> <a href="https://twitter.com/hashtag/oakbay?src=hash">#oakbay</a> <a href="https://twitter.com/hashtag/golf?src=hash">#golf</a> <a href="https://t.co/70t0tyNllN">pic.twitter.com/70t0tyNllN</a></p>— Oak Bay Gazette (OakBayGazette) July 17, 2017