"Living Dead" director George Romero dies
Comments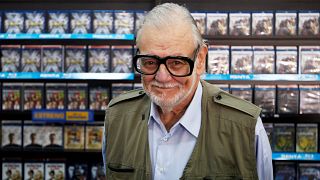 The creator of the zombie film genre, " Night of the Living Dead", George Romero has died aged 77 from lung cancer.
Romero wrote and directed the 1968 classic, in which the dead come back to life and eat the flesh of the living. There were also five sequels including the 1978 box office hit "Dawn of the Dead."
Wrote this on the late, great George Romero, to whom I owe a film career. https://t.co/eSaKaRndDCpic.twitter.com/UPMZn3WRrD

— edgarwright (@edgarwright) July 17, 2017
Made for an estimated $114,000, (100,000 euros) the black-and-white film has grossed some $30 million (26 million euros) worldwide, according to the internet movie database site IMDb.com. "Dawn of the Dead" grossed $55 million ( 48 million euros) worldwide, the website said.
Romero is said to have influenced a generation of film makers including Quentin Tarantino.
Goodbye George A Romero. We laughed through 50 years and 9 films. I will miss him. There is a light that has gone out and can't be replaced. pic.twitter.com/N0MAC1ItVM

— Tom Savini (@THETomSavini) July 16, 2017
Goodbye to the master, George Romero 1940-2017 pic.twitter.com/ECVeSzOS1G

— El Rey Network (@Elreynetwork) July 16, 2017