Dutch memorial unveiled to victims of MH17 flight shot down over Ukraine
Comments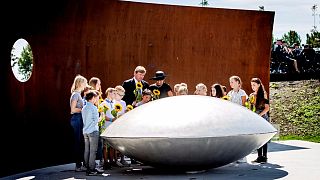 The Netherlands unveiled a national monument on Monday in memory of the 298 people killed in the downing of a Malaysia Airlines jetliner in 2014 above territory controlled by pro-Russian separatists in eastern Ukraine.
Victims came from 17 countries, and included 196 Dutch citizens.
#OTD in 2014, Malaysian #MH17 was shot down by a missile over Ukraine. 298 people died. pic.twitter.com/FqzOE03KLy

— AviationNews24 (@aviationnews24h) July 16, 2017
The Netherlands took the lead in investigating the crash and intends to try those it considers responsible.
"The realisation of this monument doesn't mean we've finished our work. The foundation 'Flight Disaster MH17' won't sit still and won't be silent until the guilty have been brought to justice and have received their punishment," Evert van Zijtveld, the chairman of the MH17 Disaster Foundation said.
Authorities concluded the plane was shot down by a Russian-made ground-to-air rocket but have yet to formally identify suspects.
Moscow denies any of its rockets could have been used.
3 years on, no justice for #MH17 victims and their families. My tick-tock of events (from 1st anniversary): https://t.co/W2nEey4dDTpic.twitter.com/iJHjCOYGz8

— Christopher Miller (@ChristopherJM) July 17, 2017
On the third anniversary of the disaster, King Willem-Alexander, Queen Maxima and caretaker Prime Minister Mark Rutte unveiled the 25-metre-long monument in a park in the village of Vijfhuizen, near Amsterdam's Schiphol airport.
Dutch politicians and around 2,000 relatives also attended.
A glistening steel structure shaped like an eye and set before a dark wall bears the names of the victims.
"If you look into it, you will see yourself and the name of your loved one," Ronald Westerhuis, the sculptor who designed the memorial, was cited as saying in the Trouw newspaper on Monday.
"The steel is so polished it will reflect the sunlight onto the dark wall, in the hope that this will ease the sadness."