McCain surgery delays Obamacare repeal vote
Comments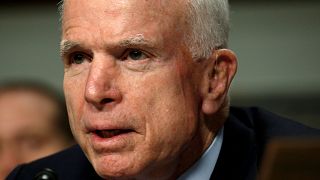 The US Senate is to delay consideration of the Republican health care bill while Sen. John McCain recovers from surgery for a blood clot.
Senate Majority Leader Mitch McConnell said the body will review other issues and will "defer consideration of the Better Care Act," until the former presidential candiadate is back on his feet.
Mitch McConnell could lose no more than two GOP votes, so John McCain's recuperation forces deferment on health bill https://t.co/esGCWAemAZ

— Wall Street Journal (@WSJ) July 16, 2017
The bill, Trump's replacement for Obamacare, could be in danger in McCain's absence as it needs 50 of the 52 GOP senators to advance.
McCain is in Arizona after having a blood clot removed from above his left eye. His office said the clot was discovered during an annual physical and removed Friday at the Mayo Clinic Hospital in Phoenix.