Images of Egypt tourist attacker emerge
Comments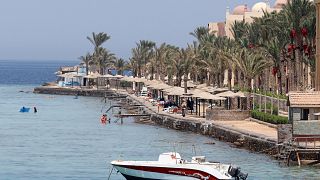 Images have emerged of the attacker who stabbed to death two German tourists at an Egyptian beach resort on Friday.
The killer, who is believed to have been mentally unstable, was pinned down by hotel security staff, but not before he had conducted his stabbing rampage that left two dead, and four others injured.
Egypt attacks: 2 German female tourists, 5 policemen killed https://t.co/5hovGqXz2W via nationalpost</a> <a href="https://t.co/a4ay2r3rGO">pic.twitter.com/a4ay2r3rGO</a></p>— World-Wide News (kencampbell66) 14 July 2017
The immediate concern for Egyptian authorities is what the incident will do for the country's floundering tourism industry.
Attacks targeting tourists across Northern Africa in recent years, and the unrest since the country revolution in 2011, have made a significant dent in Egypt's heavily tourist reliant economy.
The year before the uprising, nearly 15 million tourists visited Egypt.
Last year, the number dropped to just 5.3 million.
One local Cafe owner, whose livelihood is dependent on tourist footfall said on a personal level, he believes the attack was the work of a "lone-wolf", and that he believes the perpetrator was "troubled or had some issues in his life".
The attack occurred at a seafront hotel in the Egyptian Red Sea resort of Hurghada.
Egyptian authorities said that the man in his 20s sneaked into the hotel by swimming from a nearby beach. He has been taken into custody.