Five dead in Jerusalem shooting
Comments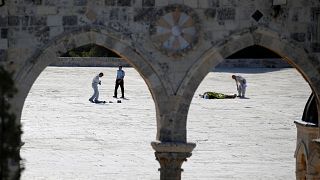 Two Israeli police officers have died after a shooting outside Jerusalem's holiest site.
JERUSALEMSHOOTINGATTACK:
- Temple Mount
- 2 Israelis critical
- 1 moderately
- 3 Arab terrorists shot dead
- heavy gunfire exchange. pic.twitter.com/m47YnM2g3f

— Israel News Feed (@IsraelHatzolah) July 14, 2017
Three gunmen had opened fire just outside the compound known to Muslims as the Noble Sanctuary and to Jews as Temple Mount.
Security forces killed the perpetrators, identified by authorities as Arab Israelis, in the wake of the first armed attack to take place inside the ramparts of Jerusalem's Old City in a number of years.
Israeli police stopped all access to the site, which houses the al-Aqsa mosque, effectively cancelling Friday prayers for the thousands of Muslims who flock there each Friday.
The Palestinian Grand Mufti of Jerusalem, Mohammad Hussein, called on Palestinians to defy the shutdown.