West Bank: 'Two Palestinians killed' during IDF opearation
Comments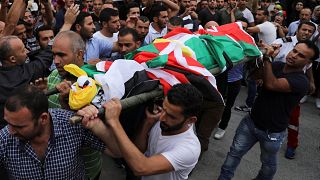 Palestinian medical officials say Israeli forces killed two Palestinian youths on Wednesday (July 12). The incident happened during an overnight raid on a refugee camp in the West Bank city of Jenin.
Israel Defence Forces (IDF) said Palestinian assailants opened fire and hurled explosives at them. In response, IDF soldiers shot towards the attackers.
Overnight, during IDF op in Jenin, Palestinian assailants opened fire&hurled explosives forces. In response, forces shot towards attackers</p>— IDF (IDFSpokesperson) July 12, 2017
Camp residents made no mention of any Palestinian gunfire in their accounts of the raid in which they said rocks were thrown at the troops.
The UN has reported that both Israeli and Palestinian security forces conduct regular operations in the camp that often result in clashes and violence.
#Israeli Occupiers shot & killed 15yo #Palestinian boy Usama Salama, & 20yo Saad AbuAsir, in Jenin shortly ago. 3 others were shot & wounded pic.twitter.com/zUlGhX5Tpx

— Abbs Winston (@AbbsWinston) July 12, 2017