Spain and UK can come to a deal over Gibraltar, says King Felipe
Comments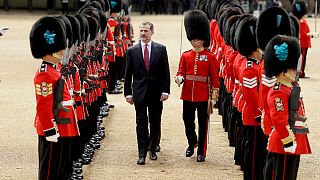 Spain's King Felipe said on Wednesday he was confident that Spain and Britain could work towards an acceptable arrangement over Gibraltar, a British territory which Spain wants back.
Addressing both houses of parliament in London (see the full speech, below), Felipe said both countries had overcome "estrangements, rivalries and disputes" in the past.
"I am certain this resolve to overcome our differences will be even greater in the case of Gibraltar, and I am confident that through the necessary dialogue and effort, our two governments will be able to work towards arrangements that are acceptable to all involved," he said.
The Spanish royals will stay at Buckingham Palace during a visit that was twice postponed – once because of a political crisis in Spain in 2016 and then after it clashed with an early election Prime Minister Theresa May called in June.
Watch Felipe's full speech