Donald Trump Jnr's emails - what we learned
Comments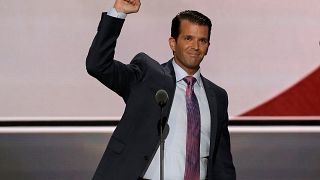 Donald Trump Jnr yesterday released a series of emails as part of a bid to support his version of the events surrounding a meeting with a Russian lawyer Natalia Veselnitskaya during the presidential election campaign.
Here are some of the key details that emerged.
1) Donald Trump Jnr was told that the Russian government supported his father's bid to become president
Rob Goldstone, an agent for an Azeri pop star, acted as a fixer for the meeting between Trump, his brother in law Jared Kushner, and Donald Trump Snr's campaign manager Paul Manafort. He emailed Trump Jnr to say the Crown Prosecutor of Russia was willing to provide "information that would incriminate Hillary [Clinton] and her dealings with Russia and be very useful to your father."
"This is obviously very high level and sensitive information but is part of Russia and its government's support for Mr Trump," Goldstone wrote.
There's no way of knowing whether this statement is true but it's obviously something Goldstone felt would convince Trump Jnr that a meeting was worthwhile.
2) Trump Jnr was told that the lawyer he met was working with the Russian government
The Kremlin has denied knowledge of Veselnitskaya and she has also denied working for the government. However in the mails, Goldstone describes her to Trump Jnr as "The Russian government attorney".
Again there is no indication of the truthfulness of Goldstone's statement or whether Trump Jnr believed it. However, the fact that the meeting went ahead at such a busy time suggests at least some degree of trust between the two.
3) Trump Jnr said he was very keen to have compromising information from Russia about Clinton
"Seems we have some time and if it's what you say I love it especially later in the summers," Trump Jnr wrote in response to Goldstone's mail offering information from Moscow. The sentiment is awkward for Trump Jnr as it suggests he was keen to work with a foreign power to undermine his rival in the run-up to the election.
Here is page 4 (which did not post due to space constraints). pic.twitter.com/z1Xi4nr2gq

— Donald Trump Jr. (DonaldJTrumpJr) <a href="https://twitter.com/DonaldJTrumpJr/status/884789839522140166">July 11, 2017</a></blockquote> <script async src="//platform.twitter.com/widgets.js" charset="utf-8"></script> <blockquote class="twitter-tweet" data-lang="en"><p lang="en" dir="ltr">Here's my statement and the full email chain <a href="https://t.co/x050r5n5LQ">pic.twitter.com/x050r5n5LQ</a></p>— Donald Trump Jr. (DonaldJTrumpJr) July 11, 2017