Gulf states keep sanctions against Qatar
Comments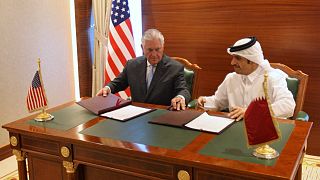 There is to be no let-up for sanctions-hit Qatar. The four Arab countries leading a boycott of the tiny oil-rich state are to keep the restrictions in place.
In a joint statement, Saudi Arabia, the United Arab Emirates, Egypt and Bahrain said sanctions would remain until their demands were met.
The four accuse Qatar of funding militant groups – something Doha denies.
By way of trying to end the rift on Tuesday ( July 11) US Secretary of State Rex Tillerson and his Qatari counterpart, Foreign Minister Sheikh Mohammed Bin Abdulrahman al-Thani signed an agreement aimed at combating terrorism funding which Washington said had been under discussion for months. If fact Tillerson said the signing represented, "weeks of intensive discussions and reinvigorates the spirit of the Riyadh summit."
"This is in light of the accusations against Qatar that it finances terrorism by the four countries putting Qatar under siege, and here is Qatar, the first country to sign an executive programme with the U.S. to combat terrorism financing; and we urge the rest of the besieging countries to join this initiative."
Qatar's four neighbours imposed sanctions last month. Besides its alleged support for militant groups it is also accused of allying itself with the region's arch enemy Iran.
The outcome has been the closure or borders affecting travel and the delivery of supplies for the import-reliant state.
Tehran has sent food supplies to Qatar and allows the country's carrier to fly through its airspace.
Qatar denies it supports militant organisations and says the boycott is part of a campaign to rein in its independent foreign policy.