Watch: Woman 'pushed down stairs' in Airbnb dispute
Comments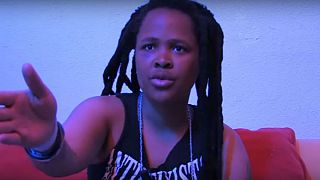 Accommodation-sharing portal Airbnb has vowed to take the 'strongest action' after claims a woman was pushed down stairs by a host in Amsterdam.
Footage has emerged on social networks purporting to show the incident taking place on Saturday, July 8.
It shows a man struggling with a woman at the top of a flight of stairs. The female resists before tumbling forward head first. The man rushes down the stairs and then shouts for someone to call an ambulance.
Steve Nkumbi, a "visual artist" from South Africa in Amsterdam for an exhibition, claimed she was the victim.
She admitted in an interview posted to YouTube that her party had been late checking out of the apartment.
She said a woman came to the door to find out why they were still there.
"She stated that this was not acceptable and that 'you guys need to pack and leave now'," said Nkumbi.
"Then I was like 'yes, give us a few minutes' and I apologised profusely for us being late and that it was not acceptable."
Nkumbi said the woman then came back with her husband.
"I don't know what she told him but he was already very angry. This guy was extremely emotional and I tried to ask him why he was being so emotional. I remember repeating that over and over.
"Then as I'm resisting against this wall he's trying to get me to his position and eventually I lost grip and then a flew down.
"I don't remember [falling down the stairs], I passed out and woke up in hospital. People are panicking and people are crying and I'm in pain."
Nkumbi said she had concussion, a huge bump on her head and bruises "all over her body".
Local reports said that a 47-year-old man had been arrested after an incident in Potgieter Street, citing a police spokesman.
David King, Airbnb's director of diversity and belonging, said: "Appalling and unconscionable behavior against members of our community runs counter to everything Airbnb stands for. Our CEO Brian Chesky and I are reaching out to the affected guests. We will take the strongest actions we can against such abhorrent conduct, including banning people for life from our platform and assisting law enforcement with their investigation and potential prosecution. Nobody should ever be treated like this and it will not be tolerated."