Cholera cases in Yemen exceed 300,000
Comments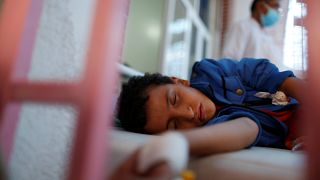 It is a grim milestone but the cholera outbreak in Yemen has now infected more than 300,000 people.
The International Committee of the Red Cross (ICRC) used social media to remind the world of the disaster which has killed 1600.
#Yemen's cholera epidemic continues to spiral out of control. Today, over 300,000 people are suspected to be ill. More than 1,600 have died. pic.twitter.com/YFiaNyujlk

—

ICRC

(@ICRC) July 10, 2017
In late June the World Health Organisation declared the epidemic in the war-torn nation, "the worst cholera outbreak in the world."
Over half of the cases are children. The war has been a breeding ground for the disease which spreads by faeces getting into food or water and thrives in places of poor sanitation.
The most intense impact has been in areas in the west of the country which have been fiercely contested in the two-year war between a Saudi-led coalition and armed Iran-aligned Houthi rebels.
Yemen's economic collapse means 30,000 healthworkers have not been paid for 10 months so the UN and the WHO have stepped in with aid and by setting up rehydration points .
International efforts have helped keep the death rate to a low 0.6 percent of cases, but its a health disaster on top of war, and near famine with the underlying causes showing signs of being resolved.