Reaction to Cyprus talks failure
Comments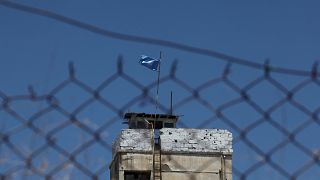 The best chance in generations to end the partition of Cyprus collapsed in acrimony early on Friday, throwing the prospect of any reunification between Greek and Turkish Cypriots into disarray.
A week of U.N.-mediated talks in the Swiss Alps culminated in a "yelling and drama" session that leaves unresolved a conflict that has kept Greece and Turkey at loggerheads and has hampered Ankara's hopes of joining the European Union.
Greek and Turkish Cypriots have lived estranged since a Turkish invasion in 1974 triggered by a brief Greek inspired coup. Major natural gas discoveries in the region over the past decade had added impetus to efforts to secure a deal. Turkey has 30,000 troops stationed in northern Cyprus and their status in any post-settlement peace deal proved to be the undoing of a process one diplomat lamented came "so, so close" to succeeding.
Diplomats said Turkey had offered little to Greek Cypriots wanting a full withdrawal of Turkish troops from the island.
Indications which had emerged on Thursday that Turkey was considering relinquishing intervention rights vanished when the Greek side asked for that commitment in writing. The Greek Cypriots had been ready to make conditional concessions on Turkish Cypriot demands for a rotating presidency, the other key issue. Their plan was submitted in writing.
In Turkey, Prime Minister Binali Yildirim said his country would maintain a constructive stance, adding that the Greek side had not done so. "Of course, what is indispensible for us is that no matter what result is obtained or what topic is agreed upon, security and the issue of guarantees are vitally important (to ensure) that past troubles are not repeated, and easing up on these is out of the question," Yildirim said.