Protest and violence in Hamburg
Comments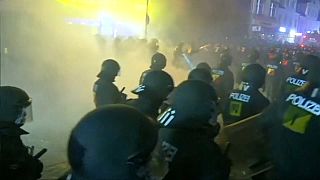 Another clear up operation is underway after a second night of protest and violence in Hamburg.
G20 protesters set fire to barricades in fresh wave of violence and lootinghttps://t.co/YzwmWmGqDhpic.twitter.com/nTb4vAJvyr

— Daily Mirror (@DailyMirror) July 7, 2017
Heavily armed police and demonstrators fought running battles on the streets staging the G20.
LIVE: MASSIVE Black Block/ ANTIFA Protest and Clashes with Police in Hamburg Germany G20… https://t.co/mVDWB0CyUHpic.twitter.com/I41oFlr61W

—

LINKS

TO (@AtoZLinksTo) July 8, 2017
More than 200 officers have been injured, though none seriously, and dozens of protesters detained.
German states send more police to Hamburg as G20 violence escalates https://t.co/n1VpMH7cOVpic.twitter.com/parRJeQVrE

— Reuters Science News (@ReutersScience) July 7, 2017
Thousands of demonstrators have traveled to Germany to vent their fury over Trump and Putin, global inequality and the pace of climate change.
Stunning #G20#WalkingDead#protest hits all buttons: nuke winter, migrant crisis, race, 99%, Holocaust. Healthcare townhalls next? Reuters</a> <a href="https://t.co/beXXRODmS7">pic.twitter.com/beXXRODmS7</a></p>— Reading The Pictures (ReadingThePix) July 7, 2017
The German military were called in to restore order.