Trump accuses Russia of "destabilising behaviour"
Comments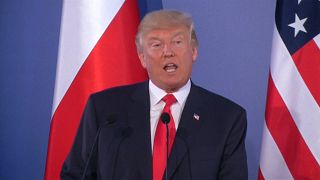 Just a day before he is due to have his first face-to-face meeting with President Putin, Donald Trump has accused Russia of "destabilising behaviour".
The Kremlin hit straight back, saying it "disagreed" with the remarks.
Trump made the comments in Poland, on his way to the G20 summit in Hamburg.
"America is committed to maintaining peace and security in central and eastern Europe," he said.
"We're working with Poland in response to Russia's actions and destabilising behaviour, and we're grateful for the example Poland has set for every member of the NATO Alliance by being one of the few nations that actually meets its financial obligations."
Trump, however, said "nobody really knows" for sure who was behind the hacking of the US election in 2016.
When a reporter asked him for a yes or no response on claims of Russian meddling, he said he thought it was Russia but "it could have been other people in other countries".
Trump's position goes against the intelligence agencies in the US, but he said they had made mistakes in the past.
The meeting between Trump and Putin will come just days after the Russian leader welcomed the Chinese President to Moscow, with both men vowing to forge a new diplomatic alliance on the question of North Korea.
On Thursday Trump said Pyongyang must be shown that there will be consequences for what he calls its "very very bad behaviour".