No booze today: fed-up Mongolians elect new president
Comments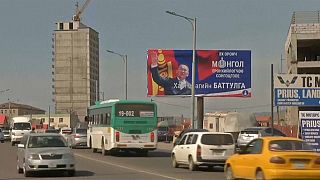 Mongolians head to the polls on Friday (July 7) in the country's first-ever presidential runoff.
The first round of voting failed to produce a clear winner after campaigns marred by corruption scandals.
Businessman and judoka Khaltmaa Battulga of the opposition Democratic Party (DP), who led the first round, faces parliament speaker Mieygombo Enkhbold of the ruling Mongolian People's Party (MPP).
Enkhbold squeaked into the second round by a 0.1 percent margin over the candidate of the Mongolian Revolutionary People's Party, which cried foul and demanded a recount.
Mongolia, a resource-rich but debt-laden country with a population of just three million, has been democratically stable but its politics have grown increasingly fractious amid an economic crisis and graft accusations.
Amid Apathy, Mongolians Head to Polls Again to Choose New President https://t.co/jUNwULjBFEpic.twitter.com/OXI2S7JwDD

— The Voice of America (@VOANews) July 7, 2017
Authorities are worried about public unrest and have suspended alcohol sales for three days ahead of the vote. The election is seen as a referendum on the government's economic recovery plans and China's role in the country.
But many voters are so fed up with their scandal-plagued politicians that they've started a movement encouraging people to cast blank ballots.
Mongolian election law states a candidate must garner at least 51 percent of the vote to secure the presidency. If no candidate reaches this number, the parties will be required to put forward new names for a new election.
The winner will become Mongolia's fifth president since 1990, following the end of communism.
Mongolians go to polls today for second round of presidential elections to choose between BattulgaKh</a> and <a href="https://twitter.com/MEnkhbold">MEnkhbold#Mongoliapic.twitter.com/EJHVHBEJFR

— Jeremy Koh (@JeremyKohCNA) July 7, 2017
With agencies