Restrictions on Qatar to continue
Comments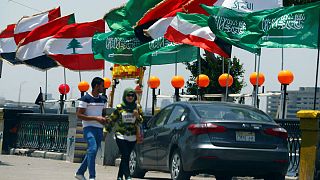 At a meeting in Cairo the foreign ministers of Saudi Arabia, the United Arab Emirates, Egypt and Bahrain have said restrictions on Qatar will continue.
The four Arab states had issued an ultimatum to the tiny gulf nation which they accuse of supporting jihadi groups.
They had called for major changes in its policies…. a demand Qatar has rejected.
Egypt's foreign minister, Sameh Shukri voiced the four nations' disappointment.
"The answer that the four nations received was negative and it does not refer to any context. We find that [the answer] does not place any base for Qatar to retract from its policies or comply with the issues that were raised."
We are not accusing Qatar; there is proof of financing and harbouring terrorism: FMs of Saudi-led bloc hold press conference on Qatar crisis pic.twitter.com/cioi1×6bd3

—

TRT

World (@trtworld) July 5, 2017
Qatari foreign minister, Sheikh Mohammed bin Abdul-rah-man al-Thani told a session of London's Chatham House think-tank that Doha was putting its faith in dialogue to settle the row.
"Qatar continues to call for dialogue despite the violations of international laws and regulations, despite the separation of 12,000 families, despite the siege that is a clear aggression and an insult to all international treaties, bodies and jurisdictions."
Egypt has said the demands which include shutting down the Doha based al Jazeera TV station, are not negotiable.
For several weeks Qatar has been blockaded and its only land border closed meaning that food and supplies are having to be shipped or flown in to meet the basic needs of its 2.7 million population.
Qatar's stock market has lost $15 billion since the Gulf crisis began https://t.co/g8KouR8BSVpic.twitter.com/n9hsHcGN6L

— Bloomberg (@business) July 5, 2017