Sonar Festival's endless electrical energy
Comments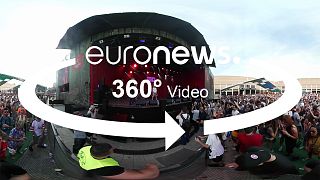 The Sonar Festival provided peaks of electronic and digital delight for aficionados of dance, techno, house and all the electronic sub-genres above, below and between, who attended its Barcelona incarnation.
It's a bit chaotic and sort of out my control

Digital artist
Since 2002 Sónar has organised more than 50 festivals in different parts of the world but Barcelona remains its birthplace.
Straddling light and dark, hvob_official</a> were the perfect choice for the sunset at <a href="https://twitter.com/hashtag/sonar2017?src=hash">#sonar2017</a> Watch here <a href="https://t.co/COPVa97WbW">https://t.co/COPVa97WbW</a> <a href="https://t.co/9Dn48jUUzT">pic.twitter.com/9Dn48jUUzT</a></p>— Sónar Festival (SonarFestival) June 29, 2017
There were big names in attendance Björk, Brian Eno, Louie Vega, Kenny Dope and Little Dragon.
And alongside them was the futuristic Sónar+D tech conference where software maestros mixed it up with the musicians.
Legendary British musician Brian Eno has created a three-floor video painting in Art Santa Monica accompanied by a typical avant-garde soundscape.
"We've divided the music relying on the two levels: there's the ground level and then there's the air, the space level. So, with we've made all of the higher sounds in the air here. And they fill the room," he said.
In a modernist pavilion designed by Bauhaus architect Mies van der Rohe, the American artist Mark Bain created a five-day sound performance based on sensors placed in the subsoil of the building, causing the sound to expand as visitors walked past.
"That's to create a kind of self-composition, I may say. So the architecture, and sound system and some of the electronics I use are all part of the system. That sort of enables the sounds that happen. I like this idea that it's a bit chaotic and sort of out my control," he said.
The 360º tent, curated by Movistar telecom and the Société des Arts Technologiques de Montréal, presented "Quadrivium" from the Spanish artists Óscar Sol and Ralp sounding like hypnotic time travel.
The Sonar Festival aims to cut through digital culture and open up styles by genre and origin, and they remain inclusive. In Barcelona there was the queer attitude of Venezuela's Arca and the live sets of female singers such as the new American R&B star Dawn.
Next year the festival celebrates its 25th birthday when it looks likely to beat the record 123,000 visitors who came this year.