Riot police clash with G20 protesters in Hamburg
Comments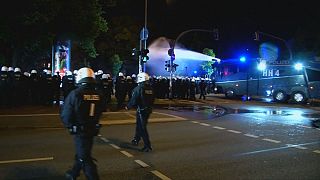 German riot police clashed with protesters in Hamburg late on Tuesday (July 4), ahead of the G20 summit that starts on Friday.
The interior ministry expects around 8,000 violent protesters to converge on the city as Chancellor Angela Merkel hosts leaders of the world's biggest economies for two days. Some 20,000 police will be on duty to secure the event.
Tempers are flaring over whether protest camps will be allowed, as authorities fear they could be used to prepare violent actions. Police have so far banned most of the camps and forcefully evacuated several in recent days, but protesters keep trying to set up new ones elsewhere.
Police said earlier on Tuesday they seized knives, baseball bats, gas masks and presumed fire bombs at different locations in and around Hamburg.