Lifelike sex robots could present ethical issues, experts warn
Comments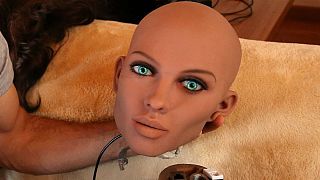 A new generation of sex robots could provide a valuable service for many, including the elderly and disabled, but experts say they could also create complex ethical problems.
In a report published on July 5 the Foundation for Responsible Robotics said that "android love dolls" (FRR) with Artificial Intelligence (AI) will bring a revolution in sex and help a large cross-section of society.
It also warned that the increasingly life-like robots would create complex issues, both in their use, their effect on society and human behaviour.
The highly customisable dolls are near human to the touch and can cost between $5,000(4,411€) and $15,000(13,235€).
What benefits could the robots provide?
A.I. dolls could act as companions for lonely, disabled or elderly people and others that would otherwise find it difficult to have intimate relationships.
The benefits could be even further reaching if the robots are used to aid people undergoing sexual therapy, helping them to come to terms with their experiences.
Dr Aimee van Wynsberghe, FRR co-director and assistant professor of ethics and technology at the Technical University of Delft, said: "If we are talking about individuals who are not only disabled but have been traumatised, in some ways this could be a beneficial instrument, if you will, to help them in their (sexual) healing process."
What issues do the life-like robots raise?
Despite the positive uses for the sex robots, the report also warns of contentious issues that both the public and policymakers should consider.
Van Wynsberghe warns that a balance must be stuck "between lack of regulation – so we have all different uses and personifications of children and women as sexual objects" and "overregulation" that could stifle the technology.
The report's authors also highlight that the dolls could change societal perceptions of gender and promote the objectification of women.
One highly controversial issue also addressed is that the dolls may be used to satisfy "desires that would otherwise be illegal".
Report co-author Noel Sharkey, professor of artificial intelligence and robotics at Sheffield University said: "Some people say: 'Well, it's better they rape robots than rape real people.' That's one of the arguments … But there's other people saying this will just encourage rapists more."
Sharkey is adamant that the growing presence of the A.I. "sextech" in our lives is unavoidable: "I can tell you that robots are certainly coming."
He expressed that the lack of regulation around their use is worrying and should be addressed immediately: "We need to think about as a society what we want to do about it."