Charles and Camila giggle at throat-singing performance
Comments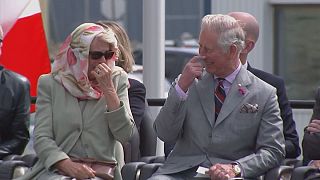 A video of Prince Charles and his wife, Camilla, at an Inuit throat-singing performance in Iqaluit, Canada, is raising eyebrows.
The footage, shot on June 29, during a welcome ceremony for Charles and Camilla, shows the royal couple struggling to contain their laughter as the singers performed the traditional activity.
Camilla is seen turning to her husband and covering her mouth as she giggles uncontrollably, while Charles smiles broadly and scratches his nose.
The couple was visiting Canada to celebrate the country's 150th birthday.
Watch the performance in full