The Scream on cream: South Korean coffee artist wows latte lovers with his creations
Comments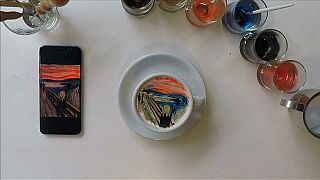 One South Korean barista is taking coffee to a whole new level.
From Disney characters to famous masterpieces, Lee Kang-bin's latte art has won him thousands of fans.
What about ''The Scream'' on cream …. or a "Starry Night'' dark roast.
With meticulous strokes, anything is possible on these cups of java.
Lee says he never learned to draw, but started brewing coffee at 17 during his mandatory military service on the border with North Korea.
"Customers usually ask me to draw their favourite artworks. One time I drew (Vincent van Gogh's) 'The Starry Night' and it looked so special, with the famous painting on top of coffee. After that, news of it spread and lots of people ordered it."
Using simple tools and food colouring Lee experiments at his central cafe in Seoul.
The result of the painstaking 15-minute process is a cold cuppa but so beautiful it seems almost a shame to sip.
Lee regularly posts images and video of his so-called "creamart" online and has more than 160,000 followers.
He's also started holding coffee art classes for enthusiasts in the South Korean capital.