Team Macif skippered to The Bridge victory
Comments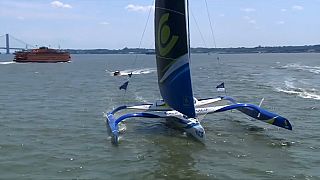 François Gabard has skippered Team Macif to a win in the centenary of The Bridge.
The 34-year-old Frenchman and his five crew members raced from Saint Nazaire to New York in eight days and 33 minutes.
Four Trimarans were attempting to beat the Queen Mary II ocean liner in a unique race across the Atlantic.
But poor winds slowed down the crossing from France, and the ship arrived over two days ahead of the French yachts.