Brazil's corruption crisis deepens as Temer ally arrested
Comments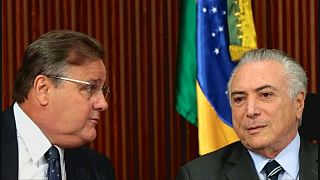 Brazilian police have arrested former minister Geddel Vieira Lima as part of an investigation into loans that state bank Caixa Econômica Federal extended to meatpacking, finance, toll road and real estate companies between 2011 and 2013, the prosecutor-general's office said.
In a statement on Monday (July 3) the prosecutor-general's office accused Vieira Lima of acting to obstruct the investigations.
Vieira Lima was in charge of President Michel Temer's relations with congress.
Vieira Lima's attorney Gamil Föppel said his arrest was not necessary, because the former minister never refused to collaborate in the investigation and had offered to give the police his passport.
The arrest comes as Temer fights allegations that he endorsed the paying of hush money to an ex-lawmaker jailed for corruption.
Temer's administration has lurched from one crisis to another since he took office.
Temer says corruption charge against him 'weak'
The president said on Monday he is confident Congress will support him and vote to block a corruption charge leveled against him by prosecutor-general Rodrigo Janot.
In a radio interview, Temer said he has enough votes to quash the charge that he took bribes from executives at the world's largest meatpacker, JBS SA. "The charge is weak and inconsistent", he said. Janot said over the weekend there is ample proof of wrongdoing by Temer.
Under Brazilian law, two-thirds of the lower house of Congress must vote to approve any criminal charge against a sitting president, who could then only be tried by the Supreme Court.
A timeline of corruption in Brazil. https://t.co/pmjb1OVrRxpic.twitter.com/5pAQOB6EuB

— U.S. News (@usnews) June 19, 2017