Mayor of Mexican fishing town 'marries' crocodile bride
Comments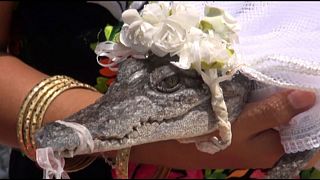 The mayor of San Pedro Huamelula, a southern Mexican fishing town, "married" a crocodile on Friday, June 30, in a traditional ceremony that is believed to encourage a good harvest.
The ritual, which has been carried out by the Chontal Indians since 1789, is said to improve the fishing town's harvest of fish, shrimp and other seafood.
After the reptile bride was walked through the town by locals wearing masks and playing music, the marriage ceremony with Mayor Victor Aguilar took place at the town hall.
Locals consider the crocodile to be a princess and believe that the nuptials will bring peace and prosperity to the community.