Children mingle and dream big at 'Football for friendship' tournament
Comments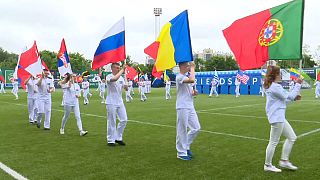 Boys and girls from 64 countries are in St. Petersburg this weekend for the fifth edition of Football for Friendship, a youth programme organized by Russian giant Gazprom.
Each country can only have one player on the field, so the teams are mixed. The event promotes tolerance, friendship and a healthy lifestyle – as well as ambition.
"I'll make a team of Pakistan and I will surely be famous like Cristiano Ronaldo," said young Mohammad Yusuf, from Pakistan.
Lauren Elisabeth represents the United States, which took part in the tournament for the first time this year. She also has big dreams.
"I want to change that we all boys and girls could both be on the big channels, like there can be a girl Ronaldo, or somebody as famous, and we can also play against the boys and there can be mixed teams were we all can play against each other – like in the Football for Friendship programme," she said.
The budding champions even got to meet a real star: Zenit St Petersburg striker Aleksandr Kerzhakov, who has scored more goals in the history of Russian football than any other player.
"If I'd had such an opportunity, I would have been very pleased to be part of this competition," he told Euronews.
"The main message of this tournament is friendship. Friendship between nations, friendship between countries, friendship between continents."
And here, everyone's a winner – on Sunday evening (July 2) all participants will have seats for FIFA's Confederations cup final between Chile and Germany.