Xi Jinping warns of ''red line'' as Hong Kong marks 20 years of Chinese rule
Comments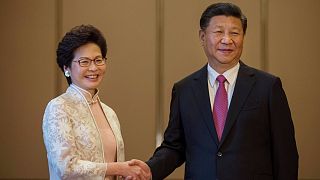 Hong Kong must not be used as a launchpad to challenge China's authority, President Xi Jinping has said.
The warning came as the Chinese leader took part in a series lavish events, including a flag-raising ceremony, marking 20 years since the handover of the territory from Britain to China.
After swearing in Hong Kong's new head Carrie Lam, Xi made it clear any move to subvert Beijing's power in the former colony would cross a red line.
"Any attempt to endanger China's sovereignty and security, challenge the power of the central government and the authority of the basic law of the Hong Kong Special Administrative Region, or use Hong Kong to carry out infiltration and sabotage activities against the mainland is an act that crosses a red line, and is absolutely impermissible," xi said.
Just ahead of the Chinese president's address, scuffles broke out as pro-democracy protesters tried to march on the swearing in ceremony. Several people were taken away by police.
Despite promising greater autonomy to Hong Kong under the "one country, two systems" principle, demonstrators say Beijing is deliberately trying to undermine the territory's more liberal political traditions.