Thousands join the justice march from Ankara to Istanbul
Comments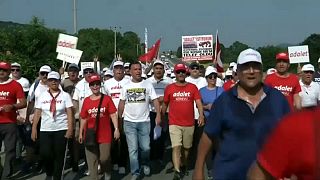 Thousands of protesters are on the road from Ankara to Istanbul on the 'March for Justice'
The head of Turkey's secularist Republican People's Party (CHP), Kemal Kilicdaroglu stands at the head of the march in a demonstration to protest against the 25-year-prison term handed down to fellow party member Enis Berberoglu for espionage.
"…We've lost democracy & now looking for…"

Justice March (from Ankara to Istanbul) in #Turkey !ETemelkuran</a> <a href="https://twitter.com/MSTanrikulu">MSTanrikuluaforgutu</a> <a href="https://t.co/P1H2KS5uED">pic.twitter.com/P1H2KS5uED</a></p>— Tamer Yazar (tameryazar) June 30, 2017
He is expected to arrive to Istanbul's Maltepe prison where Berberoglu is imprisoned on July 9.
Turkey's March for Justice—Adalet Yürüyüşü—made it to Hendek on its 15th day. 260 kilometers since leaving Ankara-200 more km to Istanbul. pic.twitter.com/OxmHDTFlId

— Louis Fishman (@Istanbultelaviv) June 29, 2017
"Wherever Kilicdaroglu goes, wherever justice goes we will follow it and end there. It may go to eternity, we do not care, we will walk."
"I had to join this march. I have to join for my son, for my daughter, for all our children. Everybody needs to take to the streets."
Berberoglu was the first CHP lawmaker to be imprisoned in a government crackdown that followed the attempted military coup in July 2016. More than 50,000 people have been jailed and more than 150,000 sacked or suspended from their jobs.