Woman kills boyfriend in social media stunt
Comments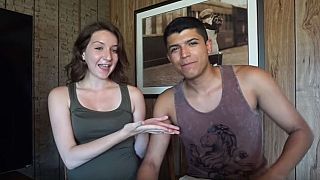 It was a high price to pay for celebrity: in Minnesota, Pedro Ruiz died after being shot by his pregnant girlfriend in a stunt designed to increase their YouTube following.
Monalisa Perez fired the bullet at her boyfriend from just 30 cm away as he held a hardback encyclopaedia to his chest, a measure the couple seem to have believed would save his life. County Attorney James Brue said that the weapon she used was a .50-calibre Desert Eagle handgun.
There were nearly 30 witnesses to the shooting, as neighbours and the couple's three-year-old child had gathered to watch.
Earlier that day, Perez, who is in custody facing charges of second-degree manslaughter, had expressed some reluctance to pull the trigger.
Me and Pedro are probably going to shoot one of the most dangerous videos ever?? HIS idea not MINE?

— Monalisa Perez (@MonalisaPerez5) June 26, 2017
The victim's aunt told WDAY-TV that her nephew had dreamed up the stunt because he wanted to be famous. She said: "they were in love, they loved each other. It was just a prank gone wrong."
In a brutal ironic twist, the couple's YouTube channel has experienced a surge of hits following the death of Ruiz: