Watch: Police wrestle pensioner to ground in parking dispute
Comments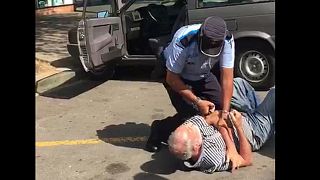 This is the moment police wrestled a Spanish pensioner to the ground after he refused to pay a fine.
Police said the man, 70, had also pushed a policeman and used bad language in the dispute over a loading bay.
Footage of the incident – which happened in Sant Cugat del Vallés, 15 kilometres of Barcelona – later went viral after being posted on Twitter.
Crsitina Paraira, who is responsible for public safety in Sant Cugat del Vallés, said she is investigating the incident.
The pensioner was not arrested.