Five convicted over murder of Kremlin critic Boris Nemtsov
Comments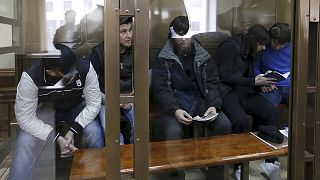 A Russian court has convicted five Chechen men of murdering opposition leader Boris Nemtsov. One of President Vladimir Putin's most vocal critics, his murder sent a ripple around opposition circles.
The verdict comes over two years after he was shot dead on a bridge near the Kremlin. At the time of his death, he was working on a report looking into the role of Russia in Ukraine.
Hearings lasted more than eight months. One of those convicted was Zaur Dadayev, a former soldier in Chechnya, who prosecutors said had pulled the trigger. The jury found that the four others had acted as his accomplices and had been promised a bounty of 15 million roubles (220,000 euros) for the assassination.
The court said Ruslan Mukhudinov, the man suspected of organising the murder, is being sought by police.
According to Interfax news agency, the Kremlin has said it is up to investigators to decide if further investigation into the killing is needed.
Both the lawyer for Nemtsov family & lawyers of men convicted of killing him think the verdict is premature attempt to declare murder solved pic.twitter.com/KBveS6oq4b

— Alec Luhn (@ASLuhn) June 29, 2017
While Nemtsov's supporters have welcomed the outcome, they claim Dadayev and the rest of the group are low-level operatives. The say the case has yet to be solved, because whoever ordered, financed and planned the hit have not been caught.
The late politician's daughter, Zhanna Nemtsova, has repeatedly called for Ramzan Kadyrov, the Kremlin-backed head of Chechnya, to be questioned in relation to the case. He calls himself "Putin's foot soldier" and has praised Dadayev as a "true patriot of Russia."
Nemtsova's lawyer, Vadim Prokhorov, told reporters:
"It's the biggest crime of the century and yet they haven't identified the real organisers or those who ordered it.
"The Russian government was not prepared to look into the entourage of Kadyrov," he added.
Kadyrov has never appeared before the court and denies allegations he was personally involved.