97-year-old graduates in Cyprus
Comments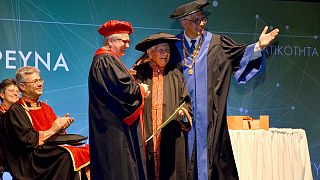 Just three-years shy of a century, Constandinos Georgiades has become the oldest person to graduate from the University of Cyprus.
Having gone back to school aged 80, he was finally accepted into the chemistry department of the University of Cyrpus on his third attempt. Part-way through his degree he switched to the department for social sciences and humanities.
His achievement is testament to a lifelong passion for learning.
At 97 years old, Constandinos Georgiades is the oldest graduate of the University of #Cyprus#UCYhttps://t.co/s7HxZ5HXLp

— in-cyprus (@In_Cyprus) June 29, 2017
Elderly UK graduates
In the UK, elderly graduates include:
90-year-old Freda Smith, who was awarded an honourary degree by the University of Roehampton in May this year. She received her Certificate in Education after having worked as a teacher for 44 years, her parents having been too poor to pay for her studies when she was younger.
In January 2016, Brian Lowe finally collected his MA from Cambridge University, at the age of 102. Cambridge graduates have the right to apply to collect an MA two years after they first graduate from the university. Mr Lowe had just never got round to it.
A 93-year old became the oldest person in the UK both to study for and take a degree when he graduated from the Open University in 2013.
#OnThisDay 2013 93-year old Clifford Dadson received an OU Arts degree & became the oldest graduate in the UK. He did a sky dive next

— Life In The UK 2013 (@LifeInTheUK2013) October 4, 2016