'Terrorist act' bomb blast kills colonel in Kyiv
Comments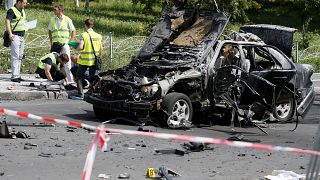 Ukraine's defence ministry has described a car bomb blast in Kyiv which a colonel died as a 'terrorist act'.
A passerby was wounded in the explosion, which occurred as Colonel Maksym Shapoval was driving through the centre of the capital at 5.16am on Tuesday morning. Authorities have given no details about who could be behind the attack.
Car bomb attacks in Ukraine are relatively rare, however since the start of fighting with pro-Russian separatists in the east, blasts outside the conflict zone have increased in number. Investigative journalist, Pavel Sheremet, was the last person to be killed in a major incident in Kyiv. He died when an explosive device was detonated in his car in July, 2016.