[Watch] Road rage incident sparks motorway crash
Comments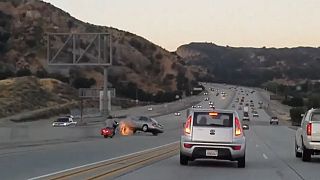 A road rage incident involving a motorcyclist and the driver of a saloon car was captured on camera in Santa Clarita, USA.
The images were filmed by Tim Morrison and Chris Taber, who were driving to work when they saw the driver of the silver vehicle cut in front of the motorcyclist.
The motorist reacts by kicking the side of the car, which swerves into the motorcycle.
The cyclist brakes and avoids a collision. The driver of the car loses control and hits the barrier before crashing into another vehicle.
The motorcyclist does not stop and the California Hightway Patrol is investigating a possible hit-and-run.