Philippines: Making a splash in Manila
Comments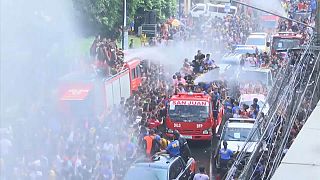 People in the Philippines capital of Manila got wet on Saturday in this year's water festival on the feast of St John the Baptist.
For the suburb of San Juan, the annual event is a tribute to its namesake and patron saint who Christians believe baptised Jesus Christ.
The local fire department used water cannon and hoses to drench crowds but locals joined in with everything from buckets to water pistols.