Chile asks for forgiveness from indigenous Mapuche people
Comments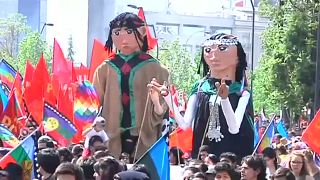 After years of complaints of discrimination and injustice, there is a plea for forgiveness from the President of Chile to the indigenous Mapuche population.
New resources are being promised for the community, as well as the setting up of a ministry for indigenous affairs.
The Chilean President, Michelle Bachelet, told a news conference: "We have failed as a country. I want, solemnly and with humility, to ask for forgiveness from the Mapuche people for the errors and horrors committed or tolerated by the state in our relations with them and their communities."
Tension between the 600,000 members of the Mapuche population and the state has often flared up, amid mistrust towards loggers and farmers of European descent.
Bachelet said: "Today, as a democratic and mature society, we want to take a decisive step to confront the history of disagreements and delays that for centuries has affected the Araucania region and the Mapuche people.
"We are here to announce a plan for integral development for the macro region of Araucania, as well as initiatives of political and cultural recognition for our native peoples."
"I also want to recognise the pain and losses that have been felt by all other victims of violence in the region and apologise for those times in which we, as the state, did not know how to protect their peace or integrity."
The president said there would be new funding for building roads and providing drinking water in remote Mapuche areas.
Bachelet also said there would be new efforts to quickly transfer land claimed by the indigenous people as their ancestral home.
Most of the Mapuche people in Chile live in the provinces of Araucania and Bio Bio, about 600 kilometres south of Santiago.
Relations between the Mapuche community and the state remained fractious ever since the Chilean army invaded their territory in the late 1800s.
They accuse loggers of European descent of violently stealing their ancestral land and natural resources.