Shocking images of al-Nuri devastation
Comments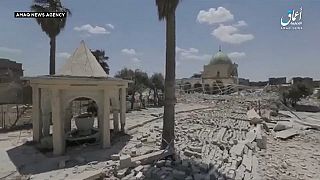 ISIL has released footage of what it says are the ruins of the al-Nuri mosque in Mosul.
In a statement posted online, the militant group says the iconic mosque and its 840-year-old minaret were destroyed by a US airstrike.
What has the US said?
The US-led coalition leading the battle to retake the Iraqi city has rejected the claim.
A coalition spokesperson, US Army Colonel Ryan Dillon, has told reporters that coalition aerial surveillance confirmed the mosque was destroyed.
However, he said a US airstrike was not the cause.
So who did destroy the mosque?
Iraq's Ministry of Defence says ISIL fighters detonated explosives inside the mosque on Wednesday night.
PM HaiderAlAbadi</a> : Destroying Mosul's al-Nuri Great Mosque is a declaration of defeat by Daesh.</p>— Government of Iraq (IraqiGovt) 22 juin 2017
Iraqi Prime Minister Haider al-Abadi tweeted on Thursday that the destruction was an admission by the militants that they are losing the fight for Iraq's second-largest city.
Why is the mosque so important?
It is where ISIL leader Abu Bakr al-Baghdadi declared a so-called Islamic caliphate in 2014 shortly after Mosul was overrun by the militants.
How long has the fighting in Mosul been going on?
More than eight months. More than 850,000 people have been displaced.
What they are saying
"We did not conduct strikes in that area at that time," – US Army Colonel Ryan Dillon.
"ISIS' bombing of the al-Hadba minaret and the al-Nuri mosque is a formal declaration of their defeat," – Iraqi Prime Minister Haider al-Abadi.
"This is a crime against the people of Mosul and all of Iraq and is an example of why this brutal organisation must be annihilated," – US Major General Joseph Martin, commander of coalition ground forces in Iraq.