Several killed in Brazil bus crash
Comments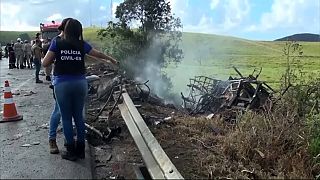 A bus accident in southeastern Brazil has left at least 21 people dead and more than 20 others hurt.
According to initial reports, a truck carrying granite was travelling in the wrong direction and crashed into the bus, which caught fire.
Many of the victims burned to death after the bus broke in half. Directly behind the bus were an ambulance and a minivan, transporting patients from the town of Alfredo Chavez to the city of Vitoria.
Travelling in the ambulance were the driver, a patient and a companion. None died but the patient suffered light injuries. The driver of the minivan died after swerving to avoid the crash and hitting the back of the car, whilst the other five passengers survived and none were hospitalised.
Another bus accident in Brazil. 21 dead, 22 wounded in Espírito Santo https://t.co/hWQZgnkChP

— Alex Hijmans (@alexhijmans) June 22, 2017